Like twilight in the desert, this new estate Rosé brings reflection and opportunity. This special edition was grown with love and shaped with thought; Inspired by the beauty of silver linings. Crisp and light, Dupratt clone zinfandel vines in cobbly volcanic soil express strawberry, passion flower and river stone. Enjoy in the sun.
Regeneratively farmed to fight climate change

Weeded by sheep who reduce fire fuels

Packaged in recycled glass and paper, natural cork, with no tin or plastic

Each bottle makes a $1 donation to Redwood Empire Food Bank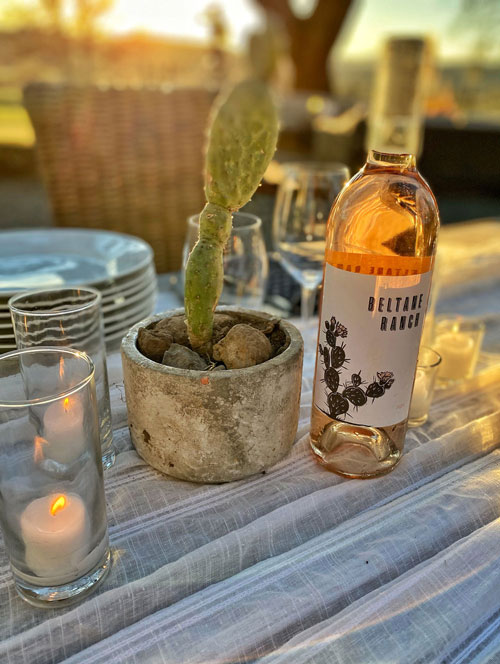 As farmers, as a community, 2020 brought unprecedented challenges.
It delivered a growing season complicated by heat, drought, fires and the pandemic. Our varietals fare pretty well under stress, but this is a call for change.
This wine was shaped in the vineyard by the hands of a dedicated team. The vines were regeneratively weeded by sheep a solution that sequesters carbon and reduces fire fuels – a leap my brother Alex & his team made in 2020. The fruit – Zinfandel, Petite Sirah, Alicante Bouschet and Carignan – was harvested early and pressed lightly, producing a refreshing and bright expression. It is bottled in recycled glass and paper, with natural cork and without metal or plastic. Each bottle gives $1 to the Redwood Empire Food Bank.  
Cactus thrived at the ranch during the warm and dry growing season, the blooming nopales served as signs of beauty. Alexa put them in floral arrangements, and we made prickly pear margaritas.  We enjoyed time together in the Sonoran desert, where we further admired their beauty.
The nopal label art was drawn, carved and printed by Marly Beyer
Marly Beyer is an artist and illustrator currently based in Los Angeles. She works in a wide variety of styles and media ranging from scientific illustration, to printmaking, to environmental installations.
Her stark and dramatic work of Sonoran Desert flora was a perfect match for this project.
Love of cactus is nothing new around here. How cool is our great great Aunt Effie tending to her agave in the front garden at Beltane circa 1940? The last photo is our family near Saguaro National Park, Tucson Arizona.