Explore and Enjoy • Visits by Reservation Only 
December 2023 -March 2024
Farm Day Visits are by request, weather and staff permitting.
We do our best to accommodate Club Members any time we can, so please reach out to us at wine@beltaneranch.com.
2024*
April 20th, 21st, 28th
May 2nd, 5th, 9th, 12th, 16th, 19th, 23rd, 26th, 27th, 30th
June 3rd, 6th, 9th, 13th, 17th, 20th, 27th, 30th
*All dates are subject to change
What makes your visit to Beltane Ranch unique?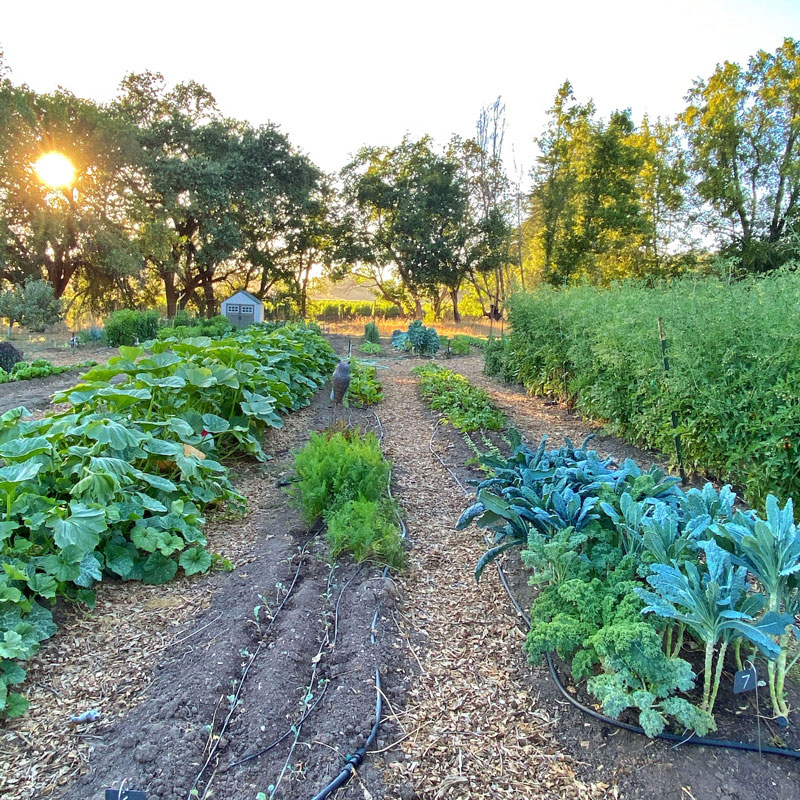 Regenerative Estate Garden
100% real, authentic farm to table cooking
Estate Wines
Seeing and experiencing the land that grows your wine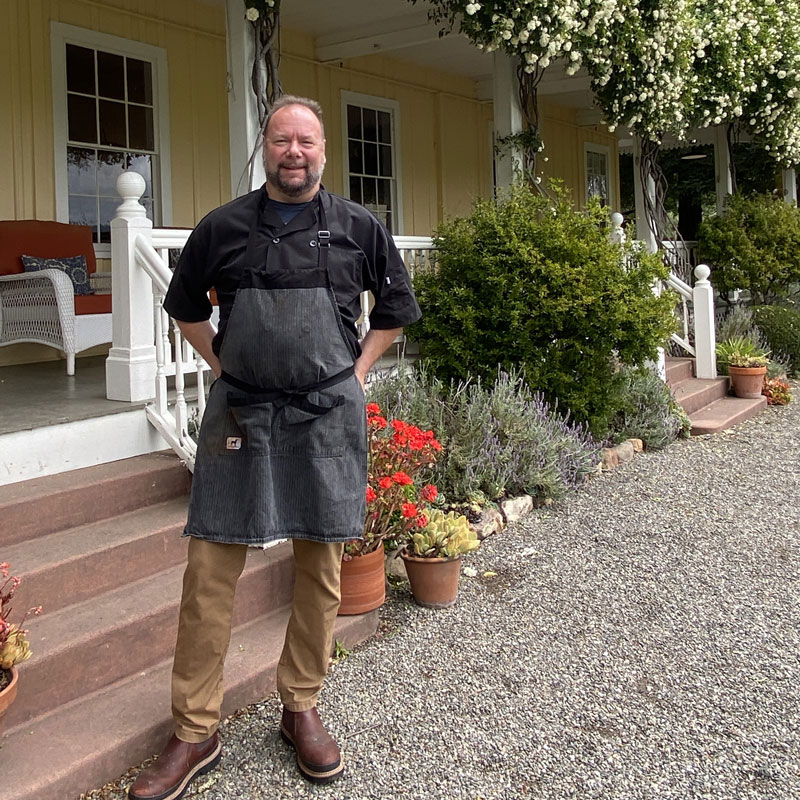 Estate Chef Neil Corsten
Michelin experience, cooking from our garden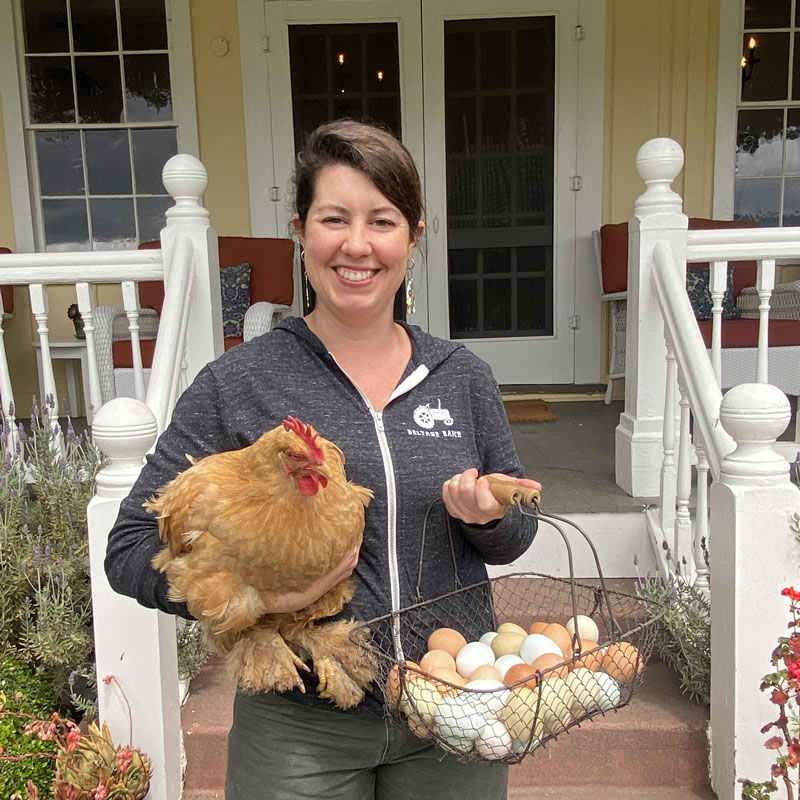 Hospitality Manager Alexandria Lopez
Curating seasonal experiences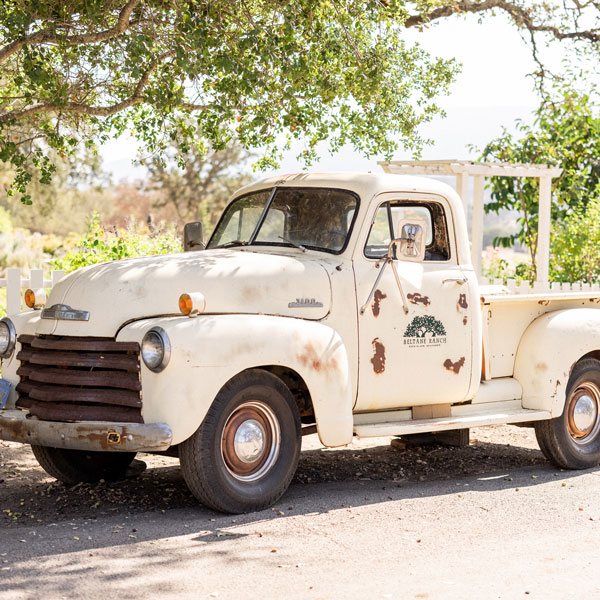 History
Soaking up the ranch's rich history
CHEF's PROVISIONS + CHEESE MEAL BOARD
Enticing grazing board, cheese and charcuterie pluse the best the ranch has to offer: Estate Chef Neil Corsten's – with 15 years of Michelin Star Experience – curated in-house provisions, varies by day and may include pâté, smoked salmon rillettes, deviled farm eggs, fresh bean salads, our favorite tinned fish, and fresh and house-pickled vegetables from our garden. Accompaniments may include fresh pesto, romesco, caponata, hummus, and estate-grown olive oil to dip and enjoy with toasted baguettes and crackers. Prepared in increments of two and excellent for a leisurely wine-paired meal overlooking the valley.

Presented to Enjoy in the Vineyard, Produce Garden or other Open Space (availability varies).
Designed to pair with Estate Wines
Self-Guided Ranch Exploration During Reservation Time
Up to 10 guests, 2 hours, Labor charges added for parties of 6 or more.
$50 / Person, increments of two preferred.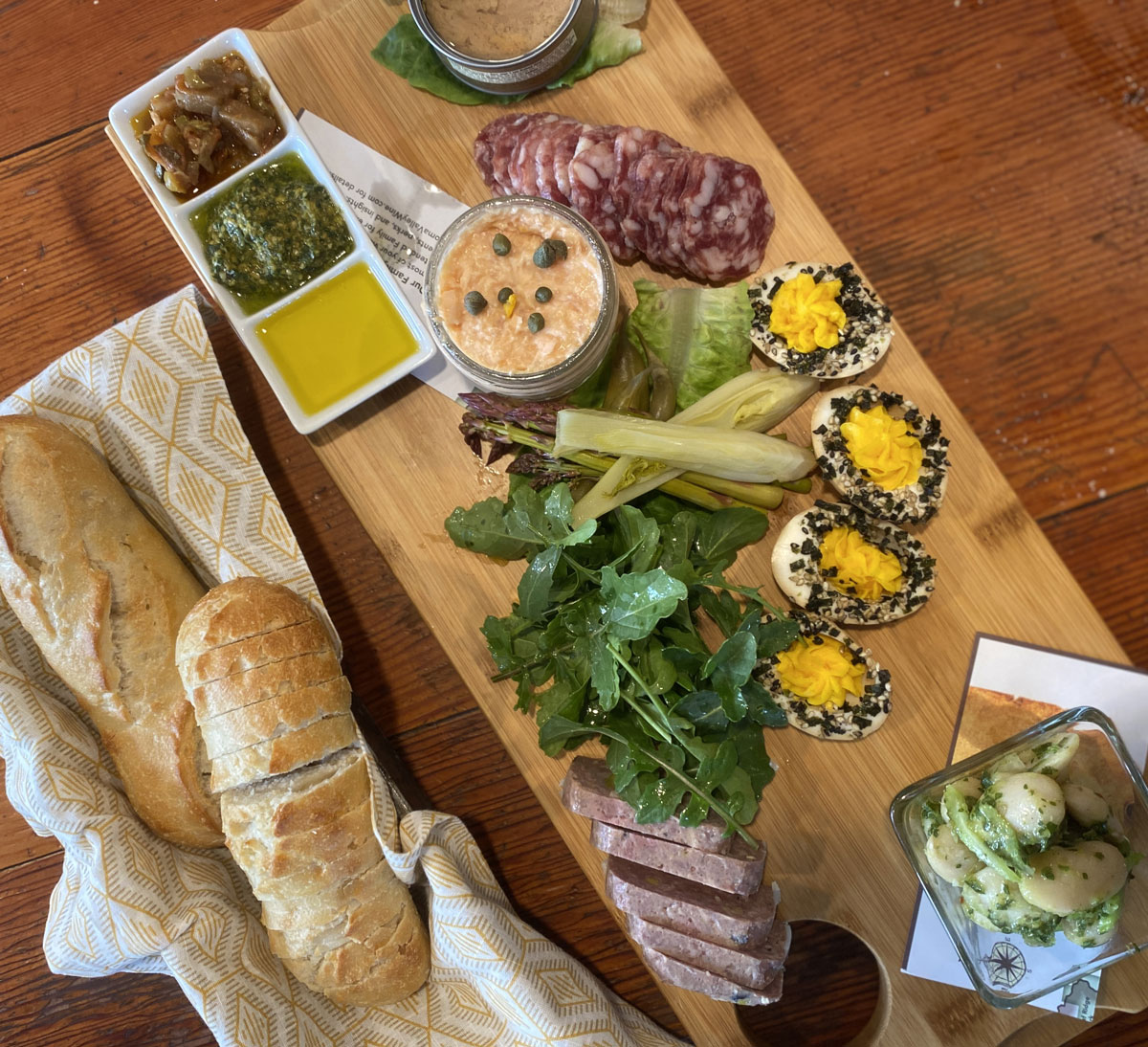 CHEESE & CHARCUTERIE BOARD
Local Meats & Cheeses
Seasonal Ranch Grown Jam, Chutney or Honey
Designed to Pair with a Bottle of Estate Wines
Self-Guided Ranch Exploration During Reservation Time
Up to 10 guests. 2 hours
$25 / Person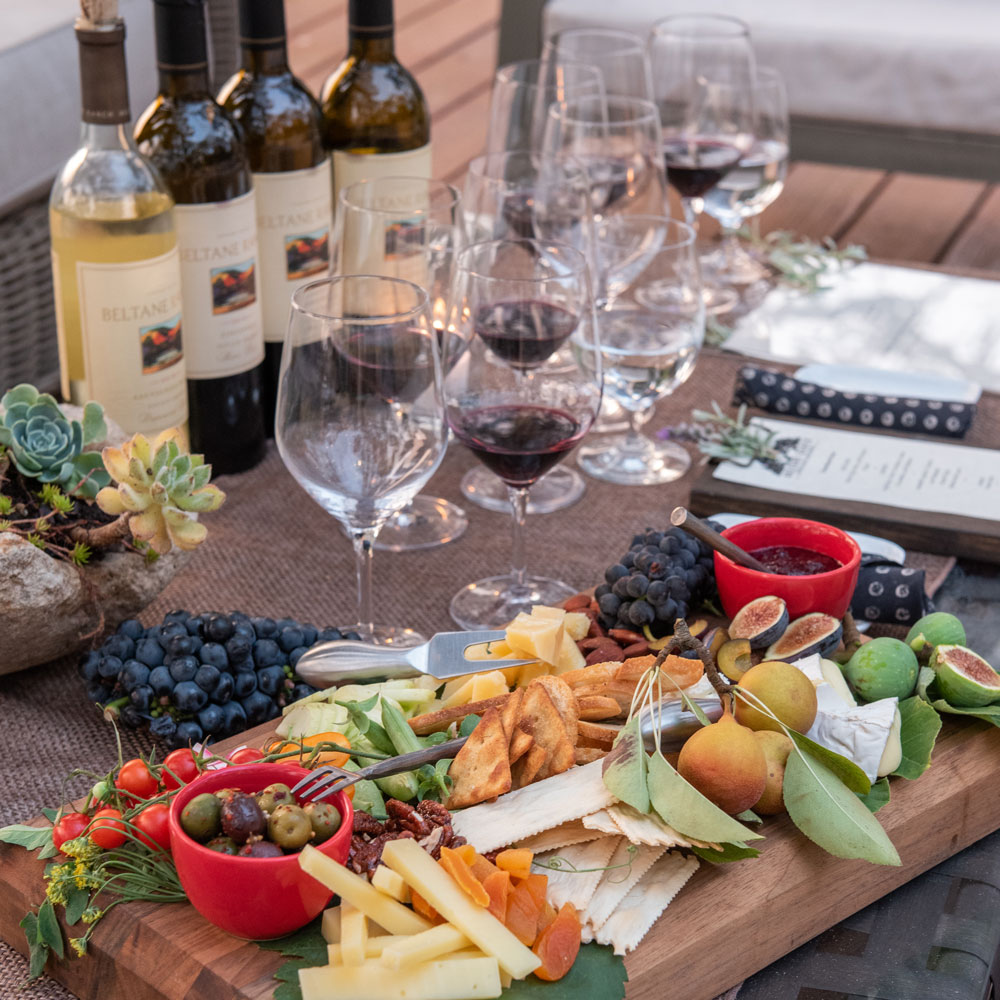 Complimentary Guided Farm Walk
See where and how your wine is grown and learn about regenerative farming.
This guided walk includes the vineyard, orchard, produce garden and the animals in our rotational grazing program. Reservation and liability waiver required. Up to 6 people per membership welcome. Additional guests by request. No outside food or drink.  Please note the walk is over uneven ground. Reservation and compliance with terms and conditions required.
11:00 am on select Farm Days resuming in April 2024.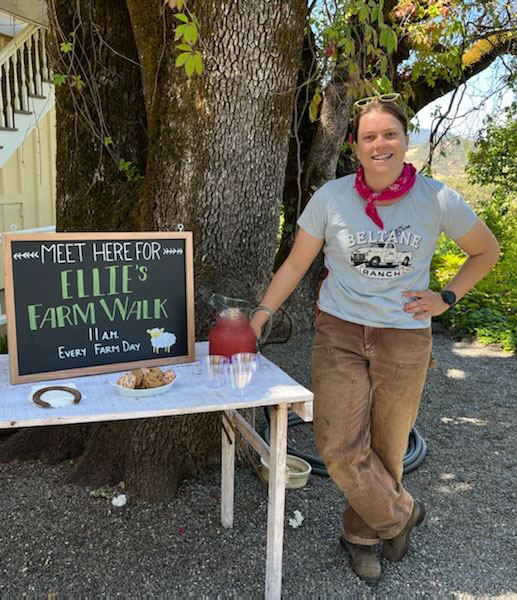 Available select Farm Days; Email us to Inquire
Private four-course dinner prepared by Estate Chef Neil Corsten – with 15 years of Michelin Star experience – , featuring ranch-grown produce, herbs, and olive oil, highlighting local, artisanal, farmstead meats and cheeses.
Designed to Pair with Estate Wines by the bottle. 2.5 hours. Limit 10 guests.
 Labor charges added to parties of 6 or more.
$95 / person
$140 / person with wine pairings included
Also check our "DINNER SERIES" which is all-inclusive on select Sundays.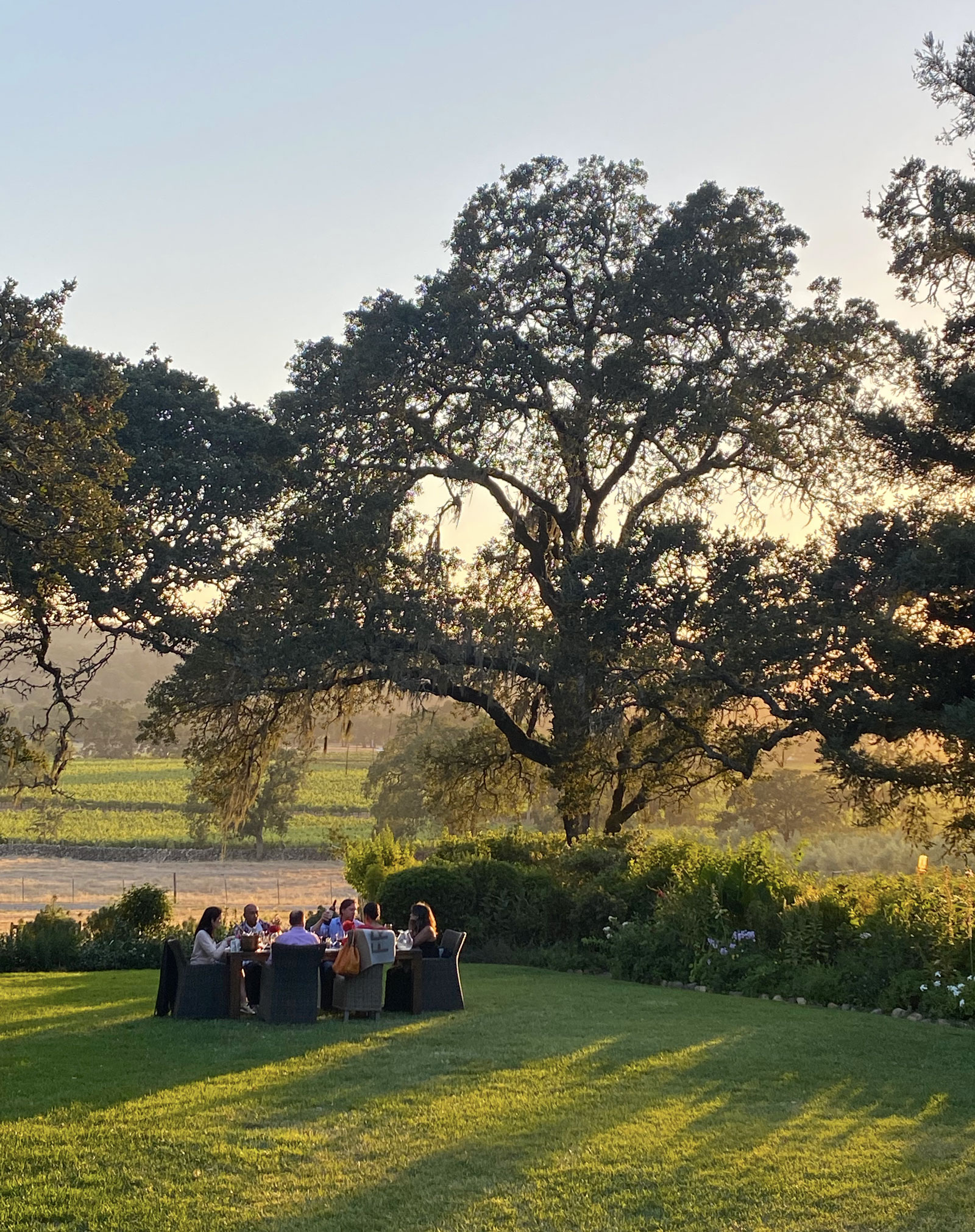 45 Minutes with a Knowledgable Team Member
Ranch History, Stewardship & Regenerative Farming
Visit and Feed the Animals
Explore the Vineyard Blocks
Open Air 4×4
5 Guests Max per Vehicle
$85 / Vehicle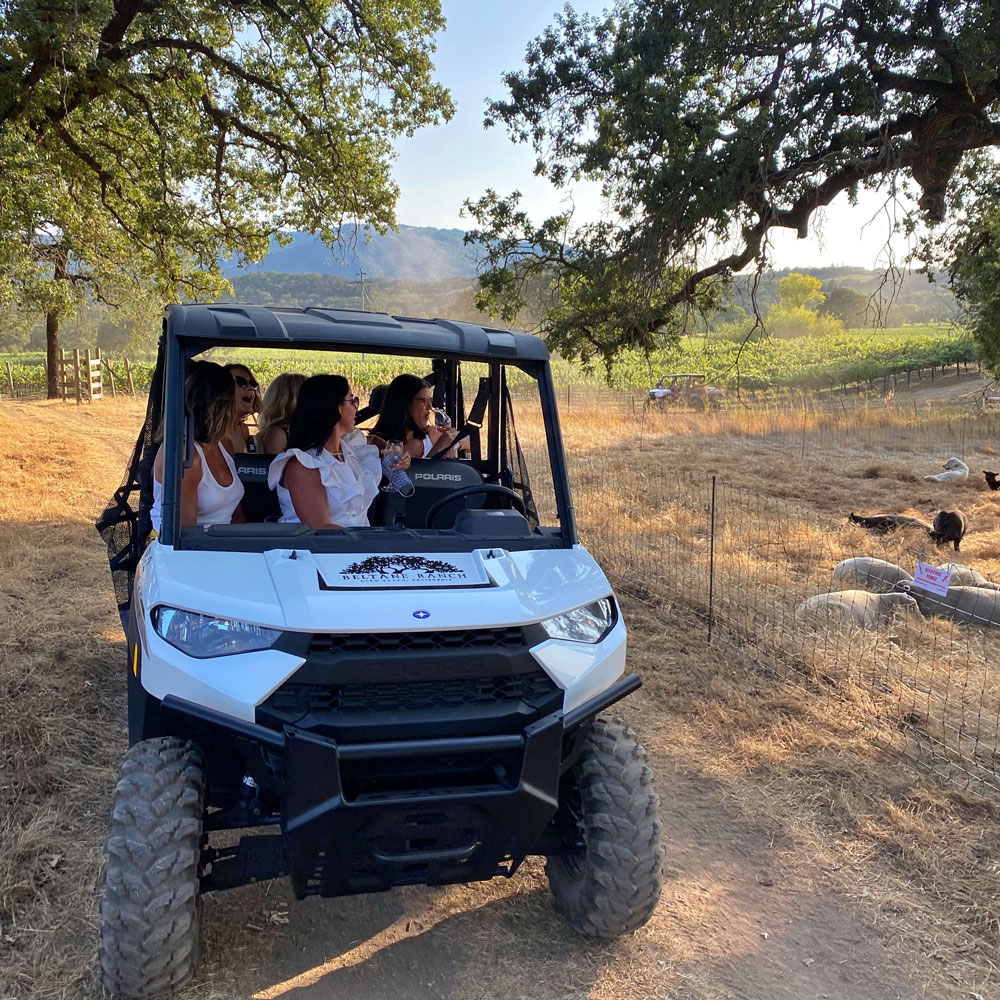 Book an unforgettable experience for your group. Six private guest rooms sleep twelve people with double occupancy (up to sixteen total with use of daybeds).
Packages include a 4-course, wine-paired dinner for 12, and chef-prepared breakfast.
Other add-ons available by request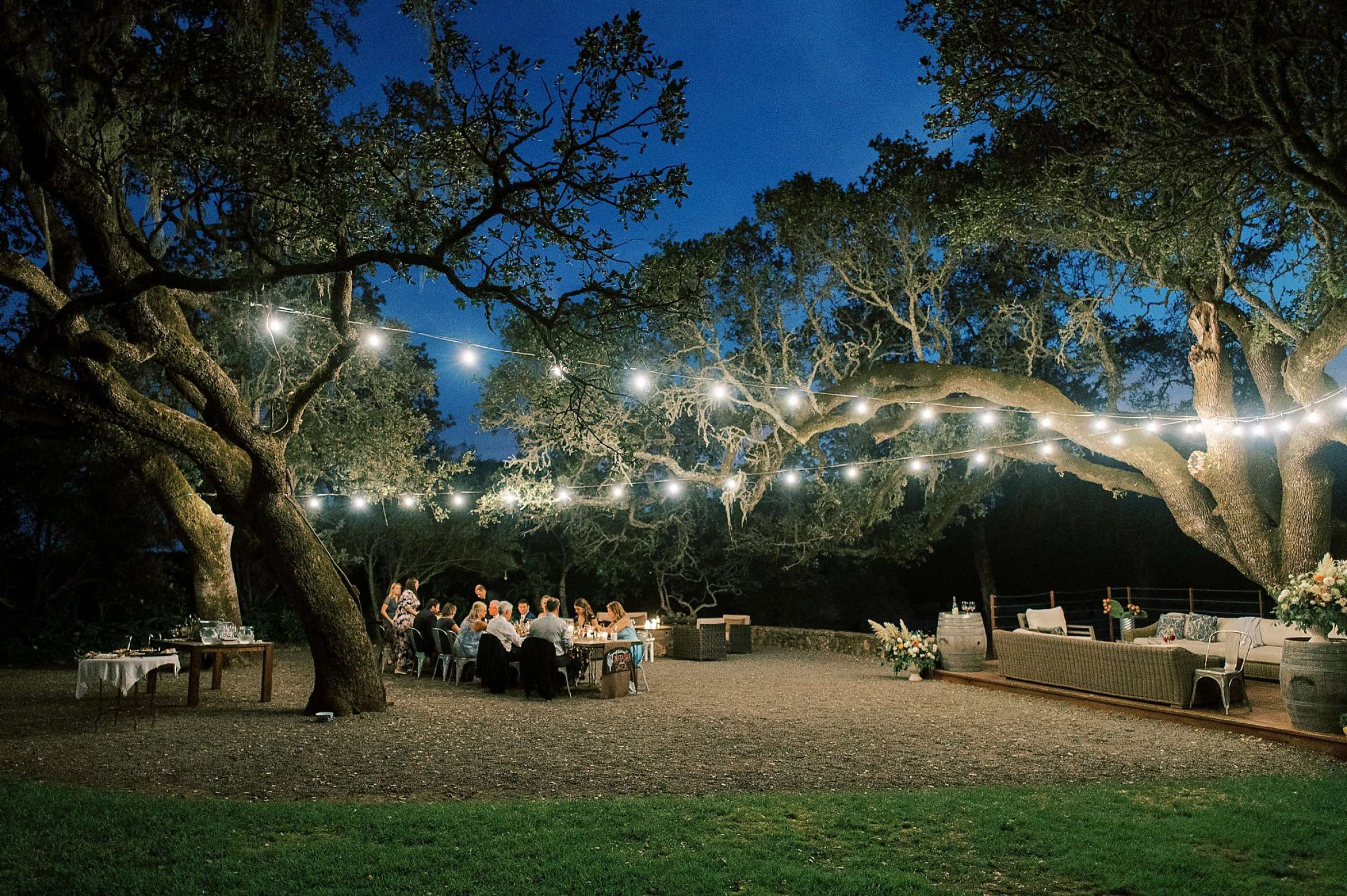 Available Sundays and select Saturdays
Ranch-Grown, Chef-Prepared Lunch
Designed to Pair Estate Wines by the Bottle
Self-Guided Ranch Exploration During Reservation Time
Up to 10 guests, Labor will be added for parties of 6 or more.
2 hours
$55 / Person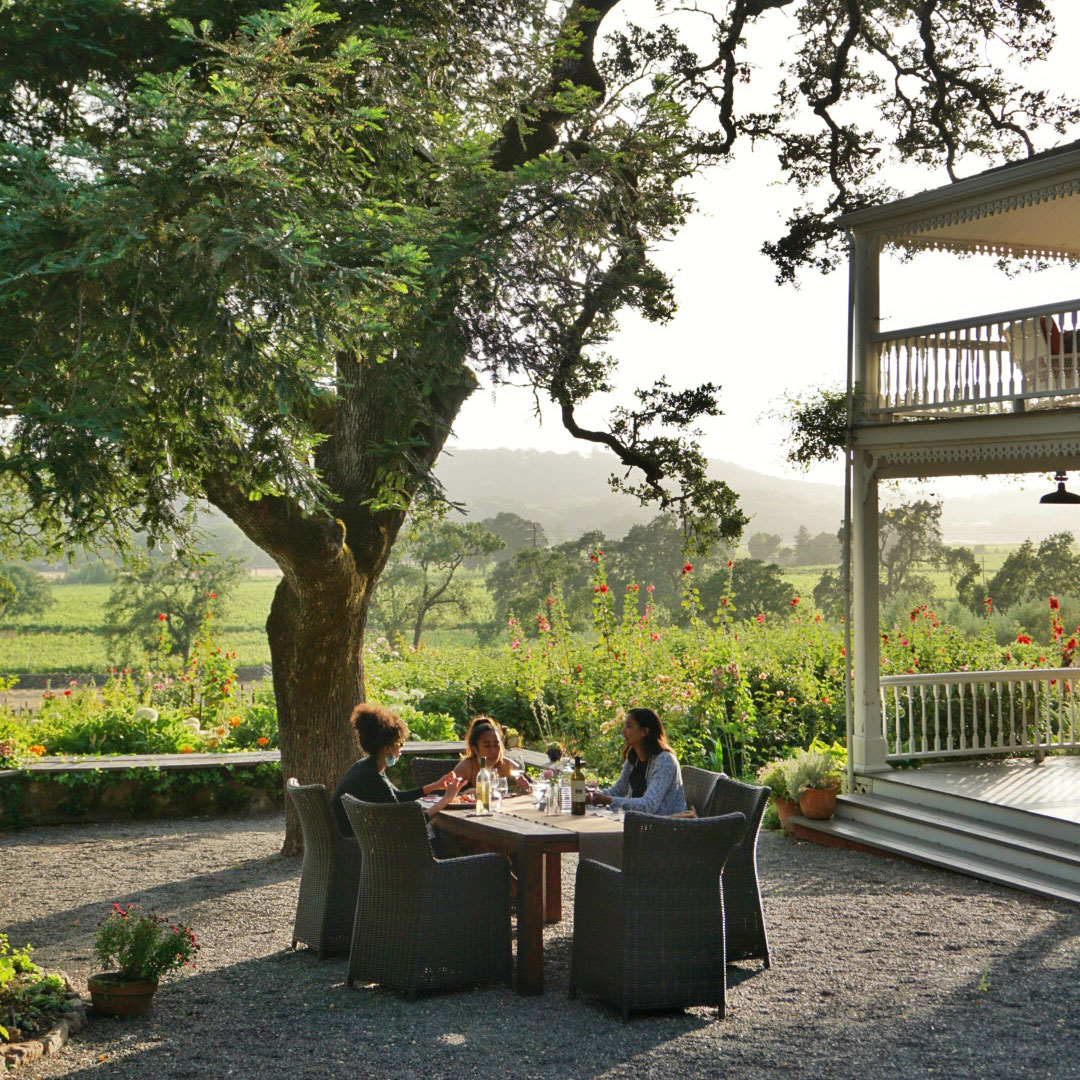 Any Guest Age 2-12 Must be Registered with a Junior Ranger Kit

and Adhere to Ranch Policies and Code of Conduct

and be supervised, in sight, by a parent or guardian at all time

Treats to Feed the Animals
Ranch Map
Regenerative Farmer Guide with Coloring Pages
Lemonade
Optional Rotating, Chef's Choice Meal: Grilled cheese, Chicken Strips, Mac & Cheese,
or Quesadilla with fresh fruit or veggie, & dessert
$32 / Rancher with Food
$22 / Rancher no food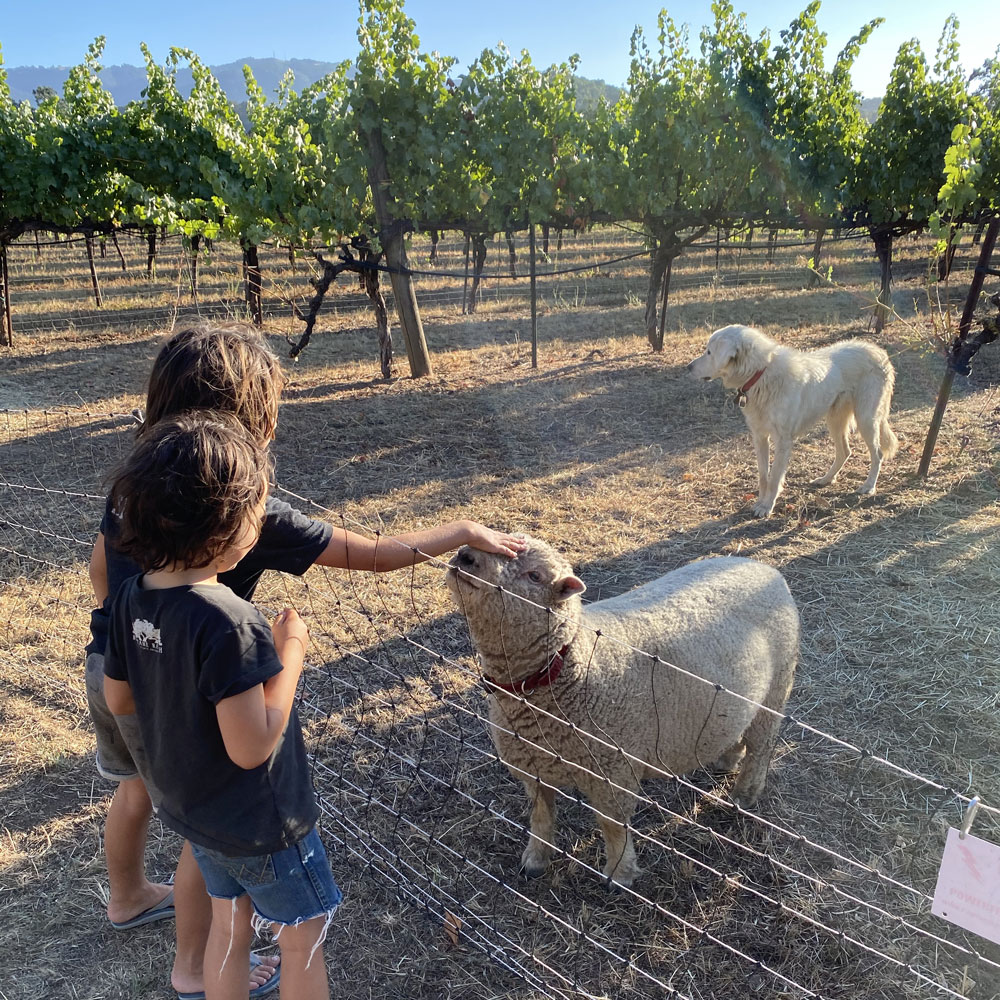 Chef-Prepared, Ranch-Grown 4 Course Dinner
Pair with Estate Wines by the Bottle
Self-Guided Ranch Exploration During Reservation Time
Site fee may be applicable
Inquire for a proposal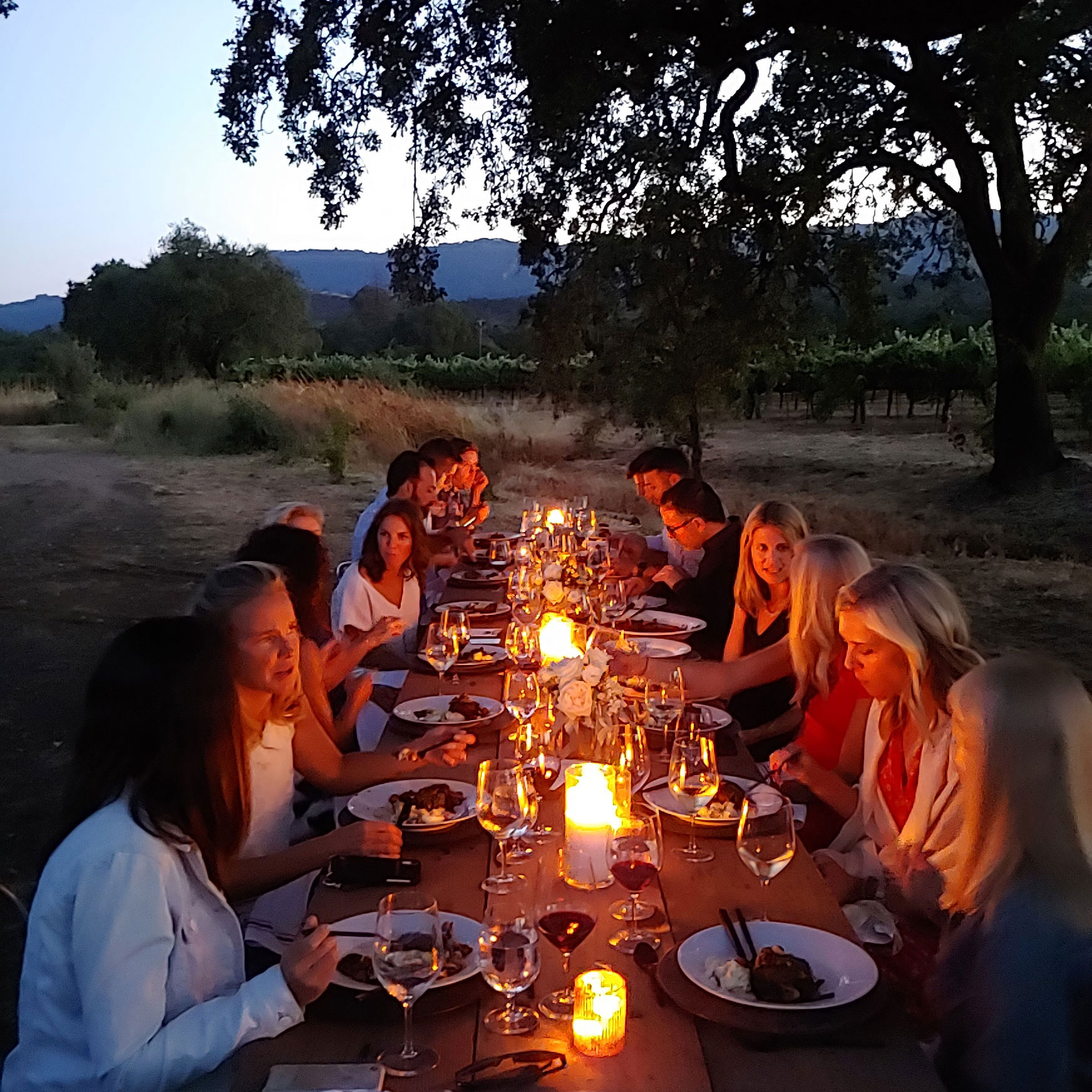 We are an agricultural preserve, historic landmark, winegrower and family farm; Committed to producing expressive wines of exceptional quality using regenerative farming practices.  Thank you for understanding that we are not a restaurant. Our programs are designed with care and consideration as part of the property's legacy of stewardship and

hospitality

. We are able to offer these experiences with the freedom to enjoy the property because of the respectful relationship we enjoy with our club members. Thank you for your continued support.
PLEASE NOTE:
Labor charges by the hour will be added to all groups of 6 or more. All experiences are subject to a 20% service fee which includes taking care of our team as well as the efforts to prepare for your experience.
We are happy to accommodate dietary restrictions. Kindly give us 48 hours in advance to prepare.
Be advised Beltane Ranch experiences include exposure to sun, wind, cold, uneven ground, inclement weather, manure, mud, ramming sheep, guardian dogs, farm animals with teeth and horns, allergens, dust, farm equipment, and wildlife like rattlesnakes. 
Children must be supervised at all times and are welcome by reservation between 11am-2pm on Farm Days. After 2pm the property is reserved for adults and inn guests.
Beltane Ranch does not take any responsibility for injury or loss. Enter at your own risk.
Using membership benefits requires current membership and a total of two shipments.
For the safety and enjoyment of our guests, anyone not following our policies will be asked to leave.